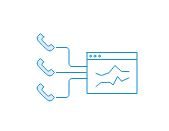 Go Beyond Call Recording
1. Start your conversation.
Whether you're meeting as a group internally, dialing prospects, or fielding support calls, sentiment analysis begins as soon as you kick off.
2. Pinpoint audio transcription.
Once the conversation begins our AI partner will transcribe all audio data into text to prep it for analysis.
3. Turn phone calls into facts.
The speech-to-text analytics are then presented via several graphs. These showcase important KPIs such as overall sentiment, frequently used words, and more. Decision-makers can then categorize these to build scorecards and reports, helping to make more informed decisions.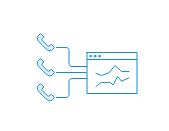 Improve customer engagement and internal collaboration through speech analytics.
Achieve a deeper understanding of customer sentiment.
Use dynamic, AI-powered speech analytics to evaluate and understand client reactions, interactions between staff and customers, and meetings between team members. Leverage patterns and data that are otherwise indiscernible to create predictive models for complex human behavior.
Strengthen internal workflow and customer engagement.
Use the power of data to improve long-term engagement with customers as well as staff relationships and morale. A better understanding of what was said — and how — can produce actionable intelligence for company-wide distribution, resulting in easily replicable best practices and better overall quality management.
Never miss another action item.
Turn Sentiment Analysis into your team's virtual assistant. It automatically transcribes your meeting notes, tracking action items, due dates, outstanding questions, and more, compiling them all in one place for participants' reference.
Want to Learn More? Contact Us
*Source: Vonage®