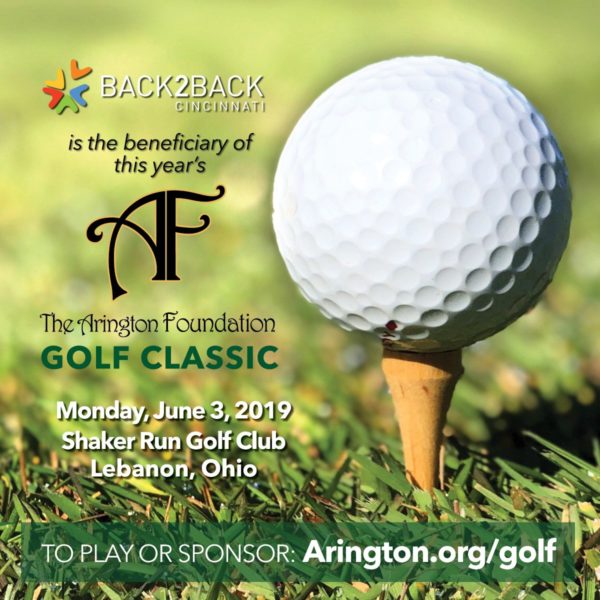 Arington Foundation Golf Classic

Mason, OH (April 29, 2019) – MVDconnect is honored to be a hole sponsor for the The Arington Foundation Golf Classic, which will be held on Monday, June 3, 2019, at Shaker Run, one of the top layouts in Ohio. The beneficiary of this year's classic is Back2Back Ministries.
The Arington Foundation (AF) was founded in 1994 by Mr. E. Thomas Arington. Based in the Greater Cincinnati area, AF is a 501(c)(3) nonprofit organization and a private foundation, with members of the Arington family comprising its board of directors. The Arington Foundation has assisted a variety of organizations, including those of athletic, educational, humanitarian, and religious nature. The foundation emphasizes supporting groups located in southwest Ohio, southeast Indiana, and northern/central Kentucky. These groups have impact that ranges from local to international.
The tournament will be a four-person scramble, with a 1:30pm shotgun start. Each golfer will receive an ample tee gift package, and team prizes will be awarded. Additional prizes will be awarded for hole challenges and special contests. And, as in year's past, the 2019 event will offer a raffle that features complimentary foursomes at Shaker Run, a set of irons, and other great items.
MVDconnect aligns itself with the Arington Foundation's vision to impact the community with actions founded on the values of love, gratitude, humility, hope, and integrity.
If you would like more information regarding sponsorship and/or registration, please visit arington.org/golf
About MVDconnect
MVDconnect provides next-generation communication and collaboration solutions including Strategy, Roadmapping & Design, Manager Voice & Data, Cloud VOIP, Carrier Services & Management, Legacy PBX Support, Networking & Infrastructure, Video Conferencing, and Interactive Displays. Its trusted customized communication solutions have helped businesses be more productive for more than 26 years.
About Back2Back Ministries
Back2Back Ministries is an international Christian non-profit organization dedicated to being a voice for orphans. We exist to love and care for orphans and vulnerable children, by meeting their spiritual, physical, educational, emotional and social needs that they might overcome their life circumstances and break free from the cycle of generational poverty.