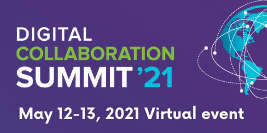 SMART Digital Collaboration Summit 2021
SMART Technologies is hosting an Enterprise Focused Digital Collaboration Summit this May. This global event is curated specifically for business leaders to come together and learn how to effectively embrace the digital transformation era. The event has many sessions focusing on streamlining decision-making processing, brainstorming in remote and visual workspaces, increasing effective operations, and creating deeper engagement among the workplace.
The event takes place on May 12-13 and will have 5+ spotlight speakers discussing the latest technology from the Private, Public, and Government sectors. This is a FREE event to help your business soar above the rest and learn vital information and tips to keep your business moving forward and have the best collaboration tools at hand.
MVDconnect is inviting YOU to participate in targeted, hands-on sessions built to improve your responsiveness to the fast-changing requirements of today's workplace.
To register for the event, click here. To learn more about the SMART Digital Collaboration Summit, click here.
Add the event to your Google/ Outlook Calendar!