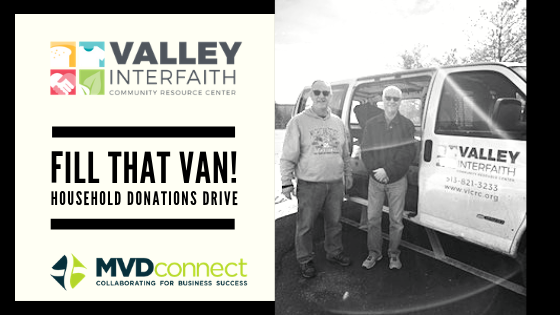 MVDconnect Fills Up Van with Donations
MVDconnect FILLS UP VAN WITH DONATIONS FOR THE VALLEY INTERFAITH COMMUNITY RESOURCE CENTER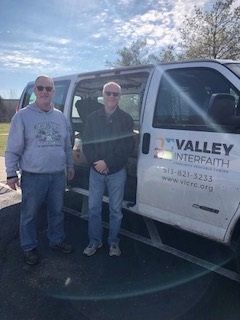 Mason, OH (December 12, 2018)  – MVDconnect was thrilled to contribute to the Valley Interfaith Holiday Drive. MVD has partnered with Valley Interfaith Community Resource Center (VIC) for the past 3 years, to help support their efforts in assisting local people get back on their feet. As a team, MVD employees have donated time to paint VIC offices, and most recently MVD sponsored a "Shoot-Out" fundraiser.
From November 21st – December 12th, MVDconnect collected donations in the form of cash, clothing, coats, household items and even canned goods for their foodbank. On December 12th, the team from Valley Interfaith picked up the items collected, to distribute to the under-resourced in the city.
VIC is an organization that supports the community in three ways: through emergency resources with its food and clothing pantry, crisis intervention with direct financial aid to reduce homelessness, and sustainability with ongoing workshops to empower neighbors for positive life change.
MVDconnect is honored to be able to give back to such a worthy cause, in their very own local community. MVDconnect aligns itself with the Valley Interfaith's vision to create a sustainable tomorrow.
###
About MVDconnect
MVDconnect provides next-generation communication and collaboration solutions including Strategy, Roadmapping & Design, Manager Voice & Data, Cloud VOIP, Carrier Services & Management, Legacy PBX Support, Networking & Infrastructure, Video Conferencing, and Interactive Displays. Its trusted customized communication solutions have helped businesses be more productive for more than 26 years. https://mvdconnect.com/
About Valley Interfaith Community Resource Center
In 1965, founder Virginia Weatherbie established Valley Interfaith using limited resources to provide food and clothing to our neighbors. Over the past five decades, with the help of hundreds of volunteers and the support of our community, they have grown from a church basement operation into today's 501(c)(3) agency. http://www.vicrc.org/