All-In-One Communication
Your business deserves the flexibility to make decisions and serve your clients based on your objectives, versus working within the limitations of your current technology infrastructure.
Let us help you design your custom Cloud VoIP solution, that provides and includes all the important features and benefits you need to be truly productive.
Reliable Unified Communications Built for Business
Connect Virtually Anywhere
Gain powerful features that deliver value by giving you the right balance of flexibility and control, so you can work smarter, collaborate easier, and take care of business on the go.
Easily switch between desktop and mobile devices
Collaborate anywhere with robust conferencing tools and team messaging
99.999% uptime reliability maximizes your business' productivity
Easy to scale as your business grows — no unexpected costs!
Integrate with many of the most widely used cloud-based applications to make your workforce even more productive.
Business Application Integrations
CRM & Collaboration
Call Monitor and Recording
On-Premise Phone System + Cloud VoIP Capabilities
Hybrid
Maybe you'll need the best of both worlds. A Hybrid system takes the benefits of both systems, allowing businesses to use their own hardware and keep control of their communication platforms in-house, but also gain the benefits of the cloud. This system allows other branch locations of a company to use the same cloud service, without having to establish it's own communication infrastructure.
"We were able to repurpose the IP Office and build on it. Avaya has saved us a bundle."
Read the Case Study on how Golden Crest Assisted Living leveraged their existing technology, while simultaneously gaining Cloud capabilities to serve their communication needs. Read More
Enhance Customer Experience and Realize New Business
Utilize high deliverability and global Messaging, Voice, and Chat communications to enable new ways to interact with your customers and redefine their experience. With expert support, you can abstract the complexity of communications and innovate faster.
Voice
Reimagine voice interactions to redefine your customer experiences.
Messaging and Chat
Make each message count as an opportunity for your customers and your business.
Authentication
Enhance security and privacy — and create seamless login experiences.
Competitive Advantage
Every business, regardless of size or industry, is seeking more effective ways to compete in an increasingly global marketplace. Many are turning to digital transformation efforts to gain a competitive advantage.
Communication is Happier Customers
Companies with top-notch communication platforms show better business results, including increased customer acquisition, higher customer satisfaction, and improved employee productivity.
Let us show you how the greatest businesses of the day are building their successes around the remarkable reinvention of today's ways of communicating.
Business Use Cases are Endless
Whether you're helping ride-share users communicate, connecting your web chat to your CRM, or even enabling renters to privately communicate with vacation rentals, we can help your business empower your communications.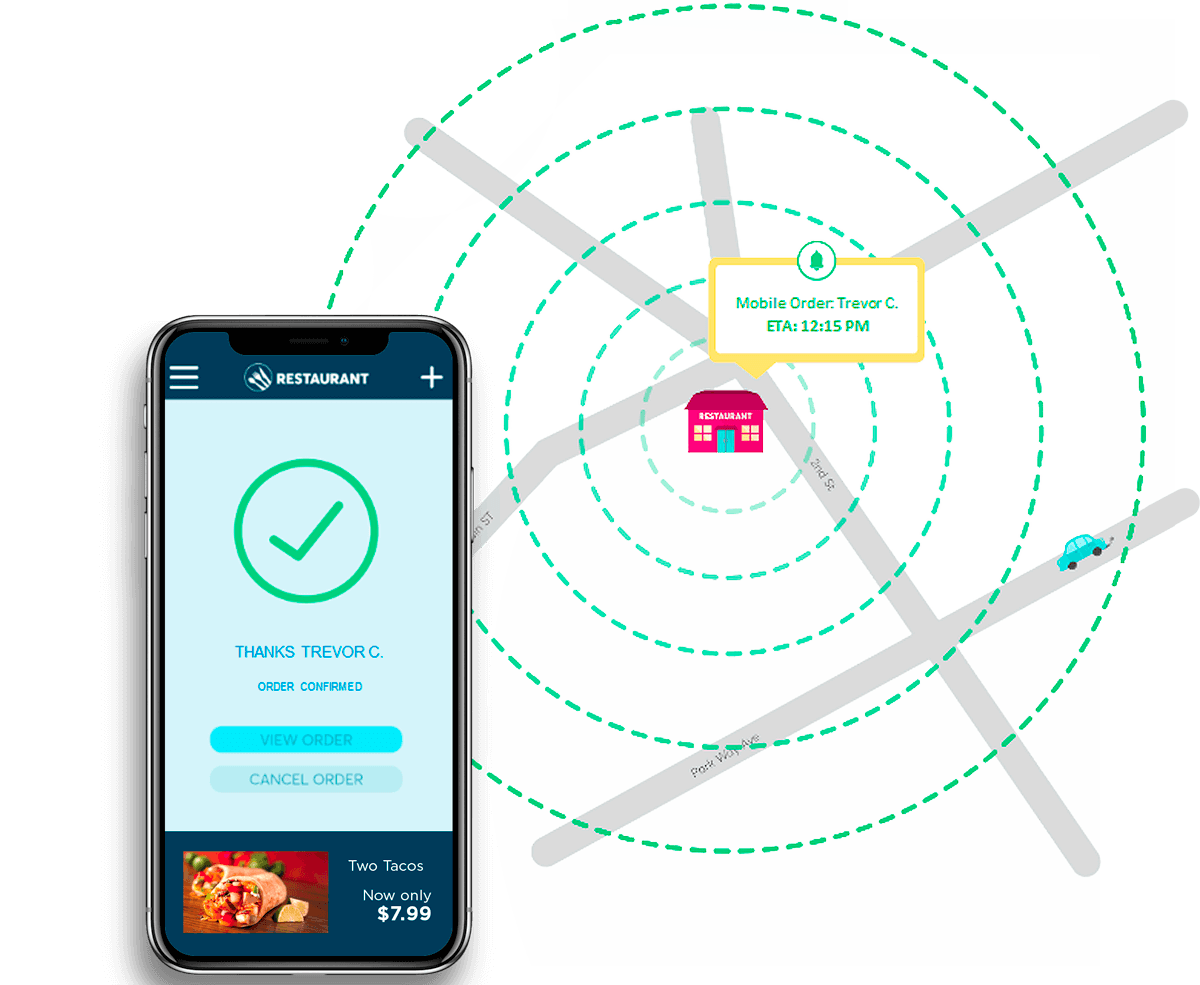 Notifications Based on Geography
Doing Business with Geofencing
Be notified when a customer is on their way and prepare food just in time for pickup. Send a text to your customer when your service vehicle is 15 minutes out. Have your emergency team ready for when an ambulance arrives. Geofencing and other geolocation services can bring your customer experience to a whole new level.
Improve quality
Improve customer experience
Increase revenue
Complete Communication Process
Market Where Your Customers Communicate
SMS text and MMS (picture messaging) are captivating, and delivered through the single device that never leaves our sides, our mobile phone.
Short codes enable you to send hundreds of messages per second
Landline texting allows your customers to call or send an SMS to your existing business phone number
Engage your subscribers with bulk texting, two-way texting, mobile voting/survey, appointment reminders, etc.
Smart targeting ensures every message is personalized and relevant to each recipient
communicate the way your customers or prospects prefer
Business Inbox: SMS and Social Integration
With Business Inbox, your customers can use SMS to reach your main company number (including toll-free numbers), or can reach you on Facebook. With a simple integration, customers can send messages through your company page on Facebook, which you can then access --and reply to-- through Business Inbox. Increase your customer satisfaction and boost your team's productivity while delivering a top-notch experience for customers reaching out to your main number or social network.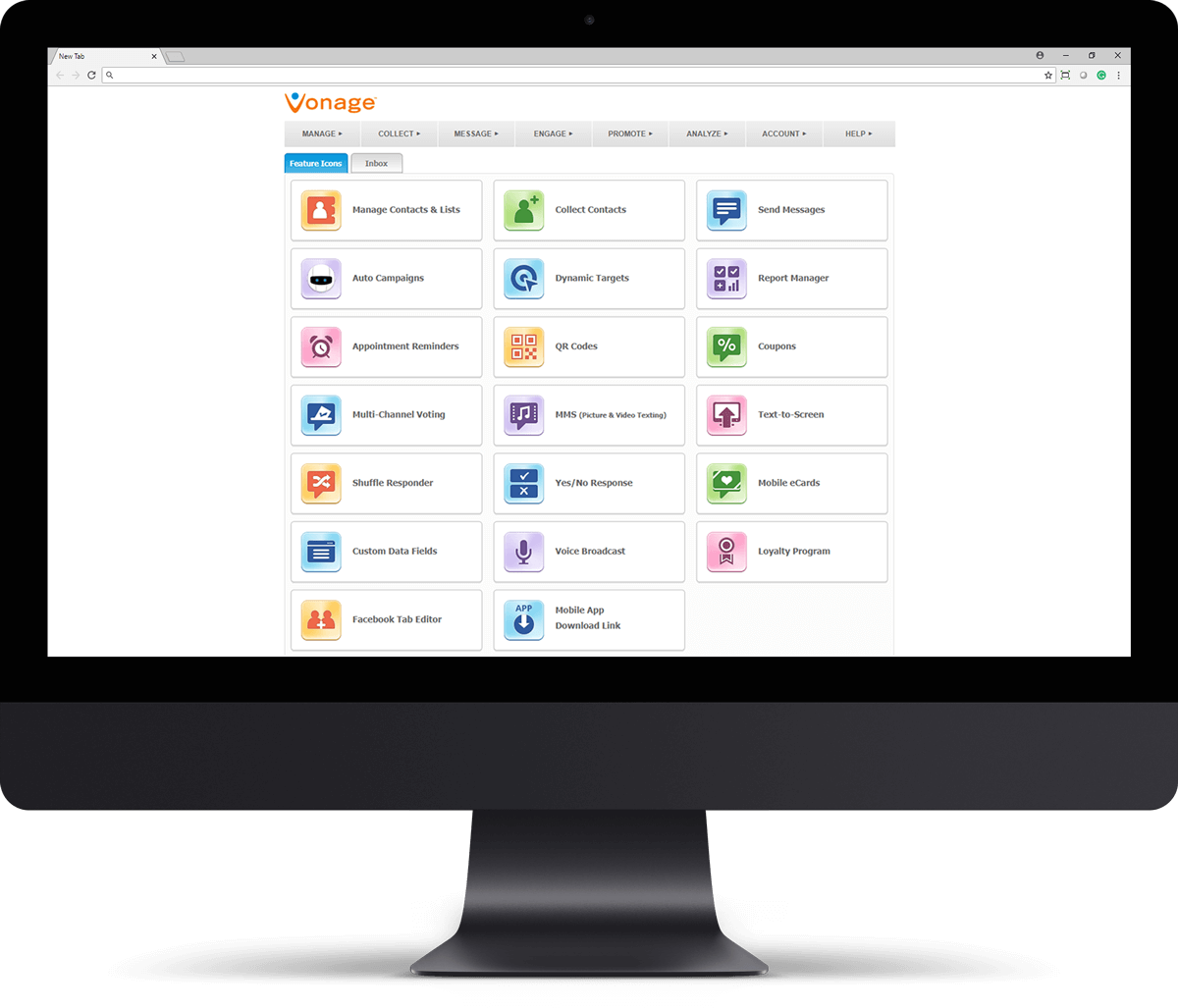 Marketing Automation Platform
Customer Experience (CX)
One omnichannel communications platform for all. Develop automated, customized drip campaigns to send personalized messages at every stage of the sales cycle via text, email, voice or social media.
Create amazing experiences that convert. Get better leads, shorten sales cycles and close more deals with highly relevant offers and communications: our platform's SMS campaigns boast a 90% open rate and a conversion rate of 45%.
Work smarter, not harder. Features like Smart Targeting allow you to segment audiences based on buying behaviors, demographics, or location to communicate at exactly the right time, with the right message, in the right way.
elevated quality of service on your existing network connection
What is SD-WAN?
Using video, online collaboration tools, and other bandwidth-intensive cloud applications doesn't have to degrade your real-time business communications or call quality. SmartWAN, our SD-WAN solution, can ensure that you get voice quality without compromising on privacy and control, even on your bring-your-own-broadband or hybrid network.
Allow one of our Business Consultants to serve you and your business needs.
We're committed to your privacy. MVDconnect uses the information you provide to us to contact you about our relevant products and services. You may unsubscribe from these communications at any time. For more information, check out our Privacy policy.