Business Continuity and Data Connectivity
4G LTE Cellular Backup
Let's face it, outages occur and an internet or data failure could stop any business in its tracks. How much revenue could your business lose each hour it's down?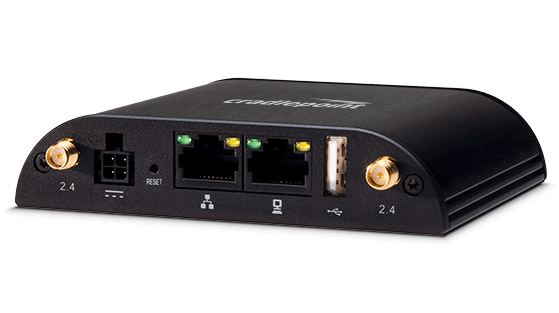 WWAN Failover Solutions and 4G LTE
100% Uptime
When your wired Internet connectivity experiences a service disruption (in some areas this happens several times a month) your business is exposed to risks of lost revenue, productivity, and customer experience issues. Upgrading to a more robust wired connection or bringing another pipe into your building, comes with a significant price tag.
Wireless WAN failover using 4G LTE can automatically provide the non-stop connectivity access you need to conduct business efficiently and cost-effectively when your primary goes down for any reason.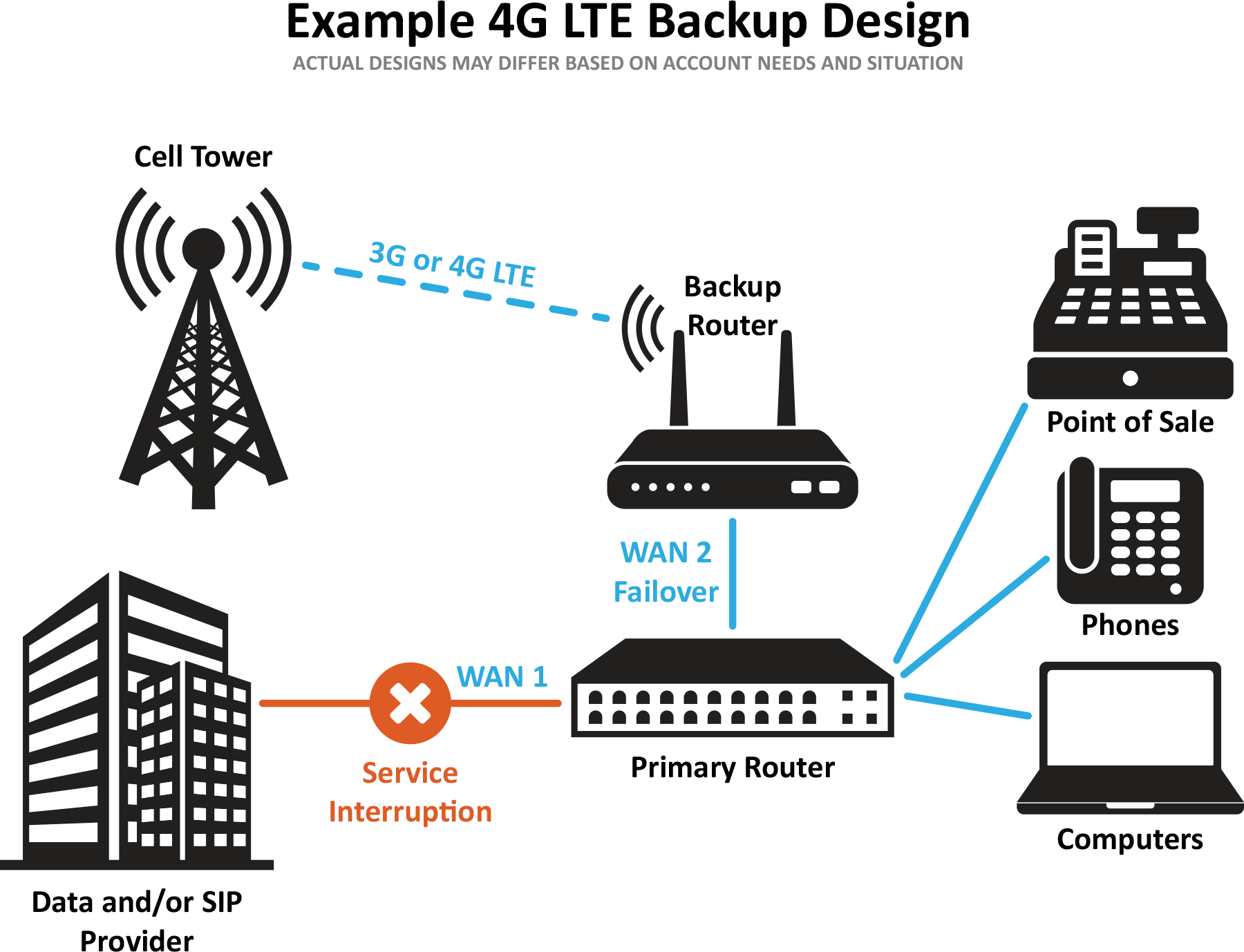 Automatic Failover in the Event of Interruption
How 4G LTE Backup Works
4G LTE Backup can be easily deployed in:
-Existing networks
-New network turn-ups
-Mobile business locations, like pop-up stores or construction sites.

We can also set up a solution on your existing network or a new network with minimal inconvenience to you.
In the event of a service interruption of the primary WAN connection, the router will automatically switch over to the cellular network. We could also limit the cellular connection to only your most critical applications if needed.
Custom Continuity Solution Process
We'll work with you to develop a custom business continuity plan so your most critical applications — voice, point of sale, CRM, etc. — will stay available during an outage. MVDconnect will also utilize best-in-breed manufacturers and technology to carry out your plan.

Minimize disruption and downtime — don't spend one more day worrying about what happens when your data connection goes down.
Infrastructure as a Service (IaaS)
Businesses are faced with tough decisions on how best to reduce costs while improving services with increased demands for compute and storage resources.
We provide organizations of all sizes a smarter choice to safeguard a company's vital data while eliminating the need to purchase and maintain the necessary hardware and infrastructure.
Enterprise Cloud Solution
Provision, Automate, and manage all of your on-demand cloud services. Receive assistance from knowledgeable and friendly support experts. 
Private and Hybrid Cloud Solutions
Maintain your business in the most efficient environment possible; eliminate aging physical hardware, improve up-time and gain more flexibility with resources available on demand.
Based on your needs for performance, availability and recovery requirements, we offer a choice of data storage including hyper performance solid state Flash arrays.
Run your desktops in the cloud with industry-leading Desktop Services powered by Citrix.
Secure
-360 degree of Redundancy
-High Availability
-No Single Points of Failure
-Tier 3 Enterprise
-Level Redundancy
-White Glove Setup
-Custom Configurations
Failover to the Cloud
Maintain your production workload in-house and recover to your own private cloud environment running on our fast and reliable infrastructure.
Fast, Reliable, and Compliant
Already running your production workloads in the cloud? Add out-of-region Dr/Failover to another of our data centers, for fast Recovery Time Objectives (RTO) and Recovery Point Objectives (RPO) to help achieve industry compliance requirements.
Disaster Recovery as a Service
Unforeseen problems will inevitably happen, by planning for them you can eliminate the majority of business disruption and headaches they can cause. Engage with us to create a virtualized Disaster Recovery Plan for your company's future. This will ensure against the loss of valuable data and resources if a catastrophe does strike.
-Maintain your business's work flow despite man-made or natural disasters.
-Reduce time to service restoration and reduce data loss.
-Gain the benefit of a secondary recovery site without the capital expense for facilities and duplicate hardware.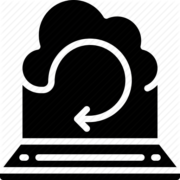 Virtual Disaster Recovery
Replicate your data and workloads to our secure infrastructure, and quickly failover in the event of a primary system failure.
Our offerings make it simple with a "DR in a Box" solution, which provides fast and reliable enterprise-class Disaster Recovery for your organizations critical IT systems:
-Continuous Data Protection
-Protection for VMWare and Hyper-V environments
-Rapid recovery for VM workloads
-Reduced risk of data loss
-Fully compliant options for HIPAA and PCI deployements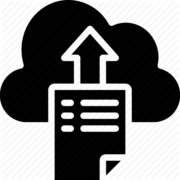 Sierra Wireless provides wireless coverage throughout North America to ensure managed connectivity for mission critical applications on a temporary, permanent, or backup basis.
99.9% guaranteed connectivity – Sierra Wireless combines the reach of major carriers, best-in-class hardware, and professional services to meet the demands of any environment.
Urgent and temporary applications – Temporary connections can be installed within days, keeping your projects on schedule. When you are finished, Sierra Wireless will de-install the equipment for you.
LTE connectivity in remote and challenging RF environments – Sierra Wireless's patented Maestro antenna responds to changes in your environment with automatic or scheduled re-optimization, without the need to dispatch a technician.
Failover and true redundancy for peace of mind – Extended outages and slowdowns can result in lost revenue and productivity. Sierra Wireless's backup solutions provide you with true redundancy and diversity by offering continuous monitoring, usage alerts, and automatic failover.
Customized solutions to fit your enterprise's needs – Solutions can be installed in days for short-term and long-term agreements, based on your needs.
MVDconnect has partnered with Cradlepoint and cellular carriers to provide a quickly deployable solution with many benefits.
Redundancy – 4G LTE provides a completely diverse and redundant path to your landline services
Main-office availability everywhere – ensure your network is available from anywhere — even during an outage
Never say "no" to a sale – protect your Point-of-Sale systems for maximum uptime
Speedy Recovery – minimize disruption and downtime with automatic failover
Cost effective – extremely cost effective especially when compared to bringing in new backup lines or the cost of lost business
We have also partnered with other manufacturers in the event that another product fits your organization's need better.
Allow one of our Business Consultants to personally serve you and your business needs.